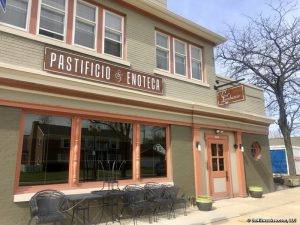 How many restaurant owners do you know that would welcome a perfect stranger off the streets into a private, by invitation gathering of friends and family for a soft launch of their new restaurant?
How many serve their food on an exquisitely curated, eclectic selection of fine china purchased over the years at local estate sales?
How many Italian restaurants have you been to where you can watch fresh pasta being made by hand while you eat, much less eat freshly made pasta in a host of dishes?
How many have servers who have stepped away from tenured academic positions because of their passion for educating customers about fine wine?
Perhaps these few facts can give you a feeling for the remarkable spirit of Ca' Lucchenzo, a new Italian restaurant that has just opened in Wauwatosa at the site of the former Juniper 61.
My journey to Ca' Lucchenzo began on a recent Saturday when I took an extra-long walk west into the sunset, basking in the return of sunlight after what seemed like weeks of cold and cloudy weather. Finding myself many miles from home, I decided to look for a place to grab a bite on North Avenue where I happened upon the "soft launch" of Ca' Lucchenzo at the site of the former Juniper 61. To my utter surprise, rather than being told there was no room in the Inn, the owner herself invited me to stay and enjoy a meal on the house.
Everything about Ca' Lucchenzo is simply magical and it starts with the décor. In my experience, most fine dining Italian restaurants go to one of two extremes. They either try to separate the food from the culture of Italy, serving hip versions of Italian food in a hip American setting. Or they try to serve very authentic Italian food in a classic, old world sort of setting. Fun as this is, I often can't throw off the feeling that I'm on camera in some kind of movie set.
Let me be clear; I am big fan of Michael Feker and what he has done with Il Mito a little further up on North Ave. Michael is a genius  in my opinion and of the second kind of Italian restaurant, Il Mito just can't be beat. But what Sarah and Zachary Baker of Ca Lucchenzo have done I find to be at a whole other level. They have created something like a higher synthesis of these two extremes.
The place feels Italian in an essential, timeless sort of way…the subdued, shimmering shades of blue on the walls and the chrome detail work are right out of the color palette of a Raphael painting or other old world master…and yet, short of a few Italian tiles on the floor, there is not a single nod to the old world in the decor.  It is modern, sleek, subdued but breathes that essential perfume of the Mediterranean…the lavender and rosemary of the soul.
All this is fitting because at Ca" Luchenzo the real star is the food. As I was offered this meal free of charge, modesty permitted me to try only two dishes that night but I can tell you, this was far and away the best Italian food I had ever eaten. I am not a professional restaurant reviewer so I won't even try to describe the dishes or the experience. All I can say is that, like the décor, the food tasted both quintessentially Italian and modern in the best sense…free of the movie set mode, I felt like I was wading into the Mediterranean Sea itself, tasting with my whole body the universal, timeless gifts of the Italian ethos…and what a gift it was!
I suggest you check out this restaurant soon because when the word get out to the foodie community that one of finest restaurants in Milwaukee has just opened on in East Towne Tosa, getting a reservation is going to be mighty difficult.
You can check out their menu here 
and their website here
Cheers!